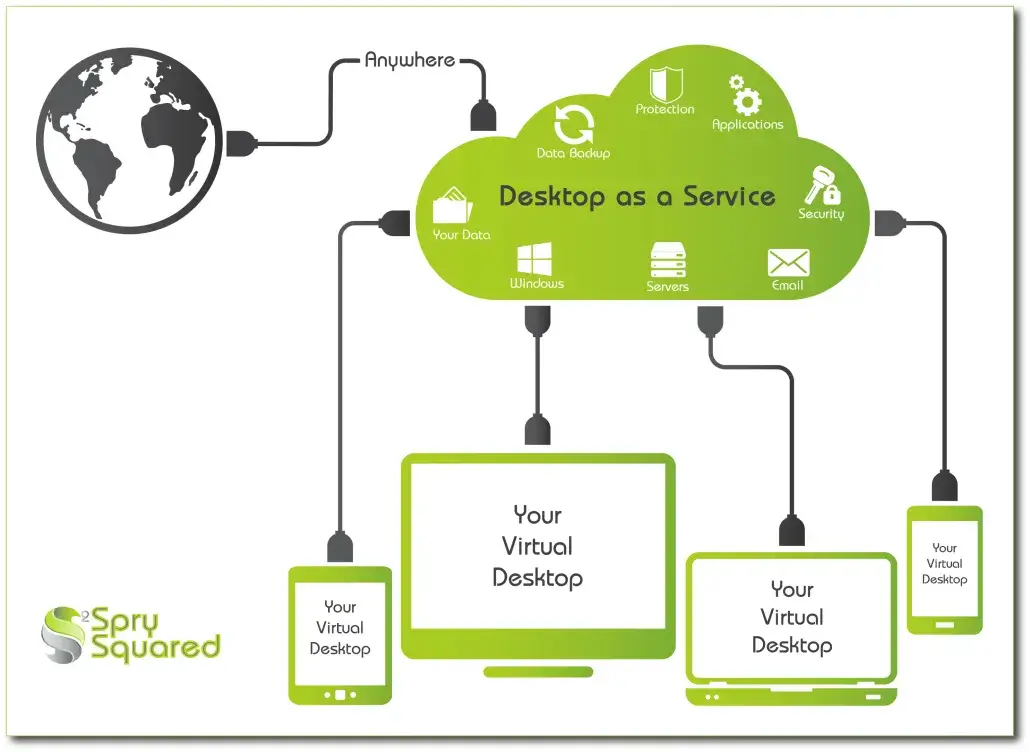 Are you considering switching to a Desktop as a service (DaaS) & DaaS Pricing? If so, you're probably wondering what it is precisely and how it impacts an enterprise's IT budget.
Desktop as a Service (DaaS) is a cloud computing delivery model in which users access hosted virtual desktops through the internet managed by third-party providers. DaaS allows organizations to outsource the provision, management, and maintenance of their desktop environment for their users—without compromising on performance or security.
The DaaS provider takes the responsibility away from the IT team, who traditionally maintains these servers in-house. It removes the burden of physically installing hardware and instead relies on remotely delivered virtual desktops accessible over the internet.
Desktop as a Service has become popular due to its flexible pricing structure and cost-effectiveness when compared to traditional desktop solutions. It helps companies quickly scale up or down desktop capabilities based on user needs – providing cost savings by reducing software licensing costs tailored to specific deployments.
It offers instant enterprise-grade secure Desktop environments so organizations can focus on improving their service delivery across different platforms at a lower cost than traditional Desktop models.
Overall, DaaS has rapidly grown in popularity due to its ability to offer world-class Desktop capabilities without compromising operations or exceeding budgets. With advances in cloud technologies, more organizations have now begun to realize their potential for creating more efficient businesses for all stakeholders involved.
In this blog post, we'll break down the cost of virtual desktops and help you determine if they're suitable for your business.
How tailor-made DaaS pricing is beneficial for enterprises?
DaaS pricing is designed in such a way that it proves to be a cost-effective and resource-efficient way to meet desktop computing needs. DaaS allows businesses to access the latest technology immediately, maximizing their existing IT resources and minimizing upfront costs.
DaaS eliminates capital expenditure on hardware and system maintenance costs, as service providers take responsibility for desktop software delivery, data center management, security patching, and support. DaaS pricing also is based on a subscription model with tiered licensing plans available as per business needs, allowing businesses to respond quickly to staffing needs without incurring high costs due to infrastructure flexibility.
Accessible remotely from anywhere with a network connection, Desktop as a service leverages cloud computing infrastructure by managing all desktop computing requirements in a secure online environment, saving additional time and money on implementation. As such, DaaS is the perfect solution for any business looking to reduce costs while maximizing the productivity and efficiency of its current IT environment.
How much does Desktop as a service cost per month?
Desktop as a Service (DaaS) is an increasingly preferred solution for businesses who are looking to reduce their IT costs while keeping user experience in check. It provides all the benefits of traditional desktop computing but without the need to maintain costly hardware and software.
In addition, it allows businesses to access their applications securely and reliably from any device, wherever they are. In terms of cost per month, DaaS pricing is typically tied to the number of user licenses a business requires.
Depending upon the desired package, fees can range from $30 per user per month up to around $100 per user per month. It also tends to be much more affordable than traditional Desktop as a Service offering in terms of both setup and ongoing maintenance fees. Ultimately, DaaS pricing can be tailored to meet the specific needs of any business so that they can find the perfect fit for their organization's budget.
Desktop as a service plan can be divided as per workloads
Ace's DaaS pricing plans are as follows
Micro: Ideal for light workloads, including data entry
SMB: suitable for browsing needs
Enterprise: Suitable for heavy testing
They have a special plan: Tailor-made Developer Plans with dedicated desktops and customized storage and RAM, keeping in mind their work patterns.
What are the benefits of going for DaaS pricing models?
DaaS pricing plans provides businesses with a comprehensive solution for managing their desktop environment without hitting the IT budgets.
DaaS pricing models are created to reduce the need for companies to purchase, install and manage PCs and laptops for each user, allowing them to instead subscribe to DaaS, which includes everything from hardware and software provisioning, data storage and backup, maintenance, and support.
Customizing DaaS pricing is more cost-effective than traditional desktop pricing, with subscriptions usually offering significantly lower upfront costs in addition to predictable monthly expenses that can quickly scale as required.
DaaS allows companies to access the latest technologies while avoiding expensive investments in hardware and software upgrades, providing remote workers with secure access to corporate applications on any device. Additionally, DaaS solutions enable IT teams to eliminate manual deployment tasks like imaging machines or enabling users. This implies that they can focus on improving the user experience rather than troubleshooting IT problems – further reducing IT overhead while freeing up costly resources.
Overall, DaaS offers an attractive combination of security, flexibility, scalability, and cost-efficiency that help businesses reduce their total desktop infrastructure costs while taking advantage of the flexibility associated with cloud-based computing infrastructure. By creating a secure environment for accessing corporate systems without requiring an overnight server update installation process or costly local IT team dispatch, DaaS is fast becoming an essential addition for many modern enterprises.
Get started with DaaS pricing models
This service is an increasingly popular way for businesses to access virtual desktops without purchasing and managing their infrastructure installations. The pricing includes access to the applications, workspace, and desktops, plus additional features and services, while rental models offer a simple pay-as-you-go approach.
When selecting the DaaS pricing model, it is important to consider the number of users accessing your system and the applications they use. Taking this into account will help you to choose the right configuration and plans while evaluating cost.
Thanks to modern cloud computing technologies, Desktop as a Service provides an exciting opportunity for companies looking for streamlined access to hardware and software applications on demand. With careful consideration of the options available, any business can enjoy significant cost savings by deploying Desktop as a Service at their organization.
The Bottom Line
Desktop as a service can provide your business with several benefits, including cost savings and increased IT security. In addition, companies can customize their DaaS pricing plans to fit their specific needs. Suppose you're interested in learning more about Desktop as a service or want to try it yourself. In that case, we offer free demos so that you can see firsthand how this technology can benefit your organization. Contact us today to speak with one of our consultants, and let us help you get started on the path to success.