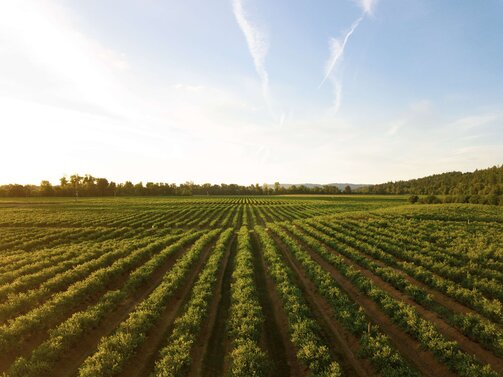 These days people are choosing organic foods instead of processed food. So, local farmers and vendors are looking for organic ways to grow crops.
But where can you find the correct information? How can you increase productivity? How to take care of your crops even in your absence?
All these questions have only one answer, i.e., agriculture apps and you will agree on this too.
Certainly, new techs are a boon for both farmers and people. They can earn their livelihoods through agricultural farming and sell the best nutrient-rich fruits, vegetables, seeds, and grains.
Because of that, people can buy fruits, veggies, and various seeds at any time. Even if they are working late, it doesn't affect their routine.
Hence, farming apps have more value than people realize.
From soil management to selling it in the market, agrotech apps played a vital role in everyone's lives. People also are choosing agrotech apps in their daily lives and supporting local farmer's markets.
Also, farmers receive valuable information about crops, crop diseases, and various farm methods like horticulture, mixed farming, etc.
It also increases their productivity. As a result, allows them to sell better crops to customers at the market price.
Why Do You Need A Farm App?
An agriculture development company plays a huge role in the success of an agriculture app. Technology is available to everyone these days. How people use it to grow and reap benefits depends on various aspects.
Farm apps have connected remote areas to metro cities and given them opportunities to grow. People are now becoming aware of government policies and selling services to a broader audience.
Over the years, it improved the living standards of farmers and added value. Technology has changed the way people used to perceive farming.
Now you do not need huge lands or live in rural areas to start a farming business.
For example, vertical farming, no-soil farming, etc., are a few farming ways that people can start agriculture practices from their rooftops.
These days finding the consumers on time is a difficult task for farmers. This is why agrotech apps are beneficial for everyone.
As a result, people can know about their local farmers.
How Important Are Farm Apps for Us?
There are so many issues that we can address through agriculture apps. Even if you work late, agrotech apps will help you order instantly. They can deliver the package first thing in the morning.
Let's look at ways agriculture apps have helped from production to marketing.
Better Conditions of Fields
An agriculture app lets farmers know about soil nutrients, plant well-being, weather variables, and PH levels. It tells about possible plant diseases, better use of land, manure & fertilizers use, etc.
The land mapping system has protected crops and cattle from harsh weather conditions and improved crop yields. The new techs also monitor the crop, which helps farmers to grow more food in a limited area.
Connectivity with Experts
The Farm app also connects farmers with government policies. Farmers can stay updated with the latest government schemes and policies and take benefits from them.
The best advantage of an agriculture app is that farmers do not need to go anywhere. In short, it offers comfort and easy access.
They can apply for various schemes from the comfort of their homes. It offers multiple communication modes to talk to experts.
These modes are text messages, voice calls, video recording, etc. It helps farmers receive the right advice and protect their crops.
Enhanced Tech Use
The correct use of technology helps farmers grow their crops tenfold, reduce manual power, maintain soil nutrients, etc.
In this case, the new technologies they use are-
Drone mapping help manage land from anywhere. It helps in monitoring livestock monitoring in a grazing field. Visual mapping is valuable throughout the crop cycle.
Crop monitoring using ML helps in fertilizers correct use. It is possible to prevent farmers from fertilizers over or underuse with the help of technology.
Humidity identifier helps in motoring the water need. It helps in giving the right environment to the plants. It also tells when the soil needs water and nutrients.
Precision Agriculture Software helps you monitor the soil and plant nutrient levels. So, you can meet the necessary regulations and standards.
Clearly, new techs like IoT, drone mapping, AI, and Analytics are changing traditional farming ways. It has also reduced manual power to a minimum.
Benefits for People
Everyone must have an agriculture app on their smartphones. Getting quality food is our fundamental need. Every local community has farmers' shops. People can even find the best food vendor in their locale online.
Some farmer apps allow farmers to open an online shop to sell their products in a competitive market.
People can order online or visit local farmers' shops to buy vegetables. That too at reasonable prices.
It lets people purchase fresh vegetables & quality food, and grains. People can log in and shop online. They can compare prices with other farmer shops and pay online. It is then, gets delivered to their doorstep.
The best part of farming apps is an easy navigation system. It is the best for both farmers and users.
Effective Online Management
We are living in a digital era. Everybody is using a phone app for fuel in vehicles to buy as small as a needle online. People use advanced mobile apps for food delivery or cab booking, investing in real estate, and learning new skills.
For this reason, all these facilities are one click away from them. Farmers must participate in getting information related to their farming business.
Additionally, Digi farming has also changed farmers' lives and crop production completely.
Tech like IoT, AI, drone technology, robotics, thermal camera, and water monitoring help farmers improve crop quantity very much.
Farmers can then manage and keep their crop data safe. They can update the crop status on the app regularly.
They can set up an online farmer shop, add their products, and sell it to consumers worldwide. It does not require extra manual power to operate the business through the farmer's app.
Agriculture apps are also available in various regional and international languages for people to communicate in their native language.
Conclusion
In conclusion, new techs allowed farmers to improve their crop yield and the quality of their products.
You should contact an experienced agriculture app development company to develop a farming app for your agriculture business solution. The government has released various mobile apps for farmers.
Do you know farmers can ask their queries and get a response from an expert within 24 hours?
This way, they can protect their crops from diseases and become careful.
Furthermore, new farming methods are helping fight environmental degradation and protecting lands from becoming barren. As a result, people can never be short of food supplies.
In the end, farmers are witnessing a rise in profits with the popularity of agriculture apps. Now consumers do not need to compromise the quality.
For this reason, the agriculture app benefits everyone.